Board Members and Staff
Board Members:
Tom Rohleder
, President
Dan Mahli, Vice President
Bob Rohla, Secretary
Berta Schmidt, Treasurer

​DJ Colter
Judy Egge
Wayne Hankel
Caileen Heuertz
​Tom Nelson
Aaron Nissen
Tim Rhode
Staff:

Stacie Loegering - Executive Director (Stacie@emergencyfoodpantry.com)

Stacie Loegering grew up in West Fargo, North Dakota. She received her Bachelor of Science degree in Human Development at North Dakota State University and Master of Education at University of Minnesota - Duluth.

Stacie is our Executive Director. In this role she directs all programs, operations, and services. In her current role she connects individuals and families in Cass and Clay counties to healthy food.

Prior experience includes 20+ years in nonprofit organizations working with individuals and families. In each of her previous experiences she connected people with resources.

---
Erin Foltz - Warehouse Supervisor
(Erin
@emergencyfoodpantry.com
)
Erin Foltz is our Warehouse Supervisor. She oversees food distribution, daily deliveries, and donations to ensure the pantry is able fulfill our mission of providing a weeks' worth of food to our clients. She also oversees our many wonderful volunteers.
Erin comes to us with a strong background in management and customer service. Her efficiency, organizational skills, and energetic outlook keep the warehouse running successfully. She is an essential asset to our team!
Erin and her family live in the Fargo-Moorhead area.
---
---
Ali Miller - Client Services Supervisor (Ali@emergencyfoodpantry.com)

​Ali Miller is our Client Services Supervisor. She ensures that our clients have a great experience, oversees our wonderful volunteers, and keeps the lobby running smoothly.

Ali graduated from Concordia College, Moorhead in May 2018 with a degree in Communication Studies. She brings her passion for customer service and love of training that she has developed over the last 7 years, primarily in the food service industry. Ali is also bringing 4 years experience in social media marketing and is excited to help showcase what the Emergency Food Pantry has to offer via various digital media platforms.

Ali's outgoing personality, problem solving skills, and love of people make her an outstanding asset to our team.
---
The Emergency Food Pantry is open for food distribution Monday - Friday from 10:00 a.m. to 11:30 a.m. and from 1:30 p.m. to 3:30 p.m.

Contact:Email

:

contact@emergencyfoodpantry.com

Phone

: (701) 237-9337

Address

: 1101 4th Ave. North

​Fargo, ND, 58102
Powered by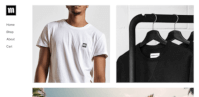 Create your own unique website with customizable templates.